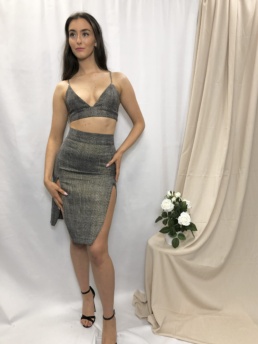 Ava E (Top and Skirt Set)
This set will send hearts racing and eyes staring. The sultry skirt not only grabs eyes but the waistline
and tightly hugs the hips giving way to a cheeky show of the legs. Paired with this luring bikini top is
sure to be a showstopper.
66% Polyester 32% Rayon 2% Lurex – Gold Plaid –
Care: Dry Clean or Hand Wash. Iron Low Reverse side
---